Archive for August, 2011
Posted by Mike | Filed under Mike's Rambling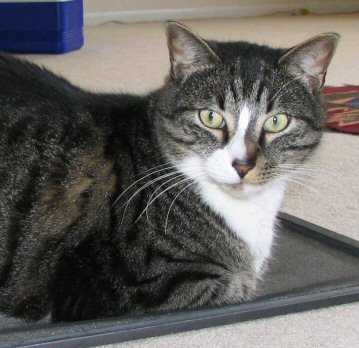 I've never considered myself a cat person, but shortly after we moved to our home in the woods of Maine we thought that a cat might be a good idea for mouse control if nothing else. We found a couple with a large litter of kittens that were ready for new homes, and decided on two so they could keep each other company. I favored a good-sized gray cat, who readily let me pick him up. He laid comfortably in my arms while Peggy and the owner chased her choice, a calico, around the room for ten minutes before they could catch her. Their personalities remained the same after we took them home. We didn't have the big gray cat long before we knew his name was Bubba.
Peggy took care of both cats, but Bubba always seemed like "my cat." He was good-natured and relaxed. He was a bit timid; he'd disappear when we had company, and a thunderstorm would send him under the bed or in a closet. He loved food, and soon grew fat and lazy—who says pets resemble their owners? (I, on the other hand, am big-boned.) He developed the habit of laying on my chest while I laid on the couch reading in the afternoon. We both loved our couch time.
Even though he loved to eat, he had a sensitive stomach. Recently, he began to have more trouble and couldn't keep his food down. The vet ran a number of tests and put him on medication that didn't seem to help. Today he got worse, so we took him in again. X-rays revealed a growth and a poor prognosis, and the choice was inevitable. This afternoon I scratched Bubba's head one last time while Sarah, the vet, ended his suffering. He just fell asleep, and then was gone.
I am still not a cat person. But Bubba wasn't just a cat.